The Autism Alliance Fall 2021 Speaker Series will feature information from experts in the fields of Special Needs Planning, Special Needs Trust and Wills, and Special Needs Dental Care. Parents and caregivers are invited to attend these FREE workshops by clicking the zoom links below.
Guest Speaker Alex Nadworny
A Team to Carry On
Tuesday October 19th
6:30-7:30 p.m.
A Team to Carry On covers the considerations beyond the wills and trusts: the details of living. Come and join us as Alex Dunn (Nadworny) CFP®, CTFA | Wealth Advisor of Special Needs Financial Planning, a specialty practice of Affinia Finanical Group will walk us through the steps needed to plan for our loved ones future.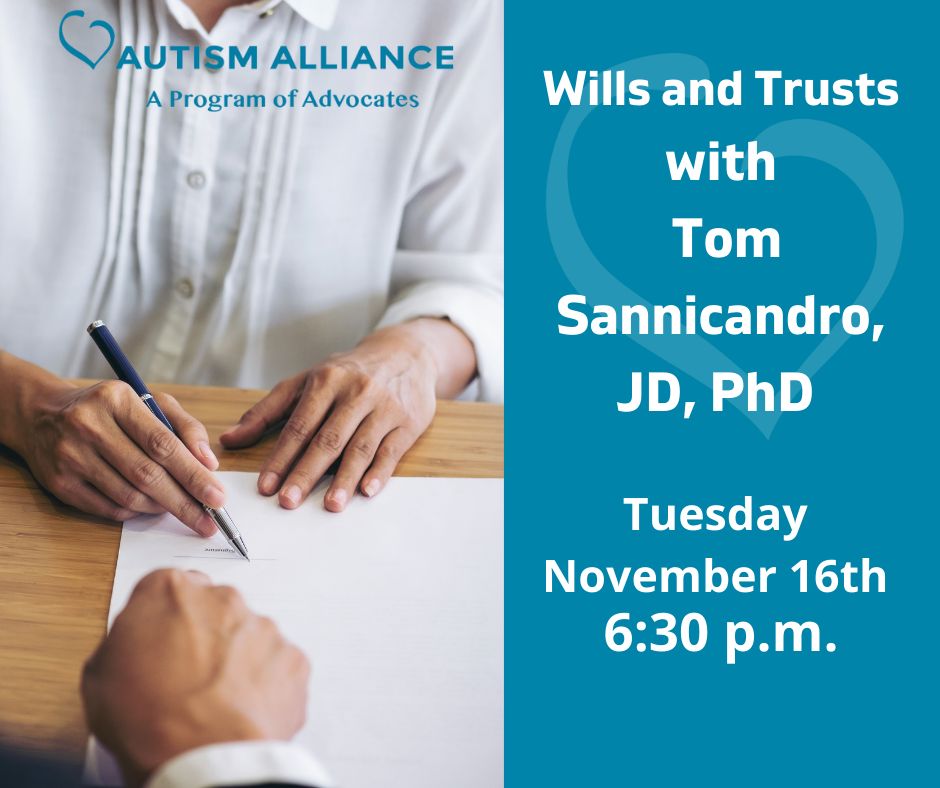 Guest Speaker
Tom Sannicandro, JD, PhD
Special Needs Trusts and Wills
Tuesday November 16th
6:30-7:30 p.m.
Join us as we welcome Tom Sannicandro, JD, PhD to discuss the importance of special needs trusts and wills, as well as his website which provides an easy and low cost mechanism to develop the two. 
Guest Speaker
Dr. Andrew Fraser, DMD. 
Special Needs Dental Care
Tuesday December 7th
6:30-7:30 p.m.
Dr. Fraser believes every child can achieve their dream smile via customization of each dental appointment. For children with developmental disabilities, dental care succeeds when each child's unique reactions to their environment are considered. Dr. Fraser is passionate about contributing to Bubble's already extensive work in tailoring dental procedures to the patient, and he has developed a primarily digital-based system that maximizes his patients' enjoyment of their visit while maintaining the highest standard of care. Join us to  learn more about his practice and ask questions. 
Our Contact Information
*{{Organization Name}}*
*{{Organization Address}}*
*{{Organization Phone}}*
*{{Organization Website}}*

*{{Unsubscribe}}*