Healthy Happenings Weekly Resources
Sensory Friendly Dining | Autism Welcoming Business
Tuesday June 7th
3:00pm to 6:00pm
Accommodations are available from the moment each family arrives, ranging from special seating, to visual menus, to noise canceling headphones to fidget items. All of these sensory tools and accommodations will be available anytime an individual on spectrum dines at Burtons in Shrewsbury - not just during special events. Families can also request expedited check out to ensure a quick and successful visit. Burtons is known for its strict adherence to food allergies and dietary needs. We are thrilled to have Burtons Grill & Bar in Shrewsbury as one of our first very Autism Welcoming business partners. They will be hosting these Autism Welcoming dining events on the first Tuesday of each month. Please stop in and check out all the wonderful accommodations they have in place.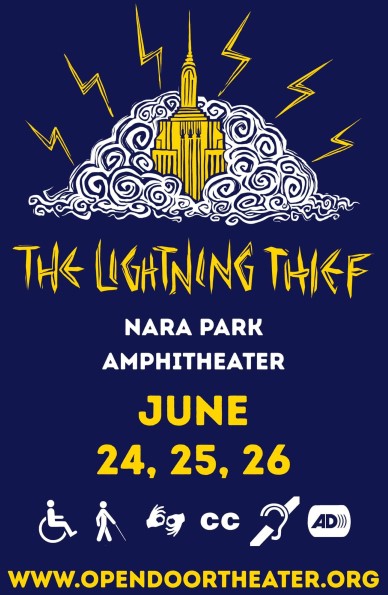 The Lightning Thief The Percy Jackson Musical
Open Door Theater is back this year, presenting a rock musical that highlights neurodiversity in an accessible outdoor amphitheater!
Adapted from the best-selling book The Lightning Thief by Rick Riordan and featuring a thrilling original rock score, The Lightning Thief: The Percy Jackson Musical (book by Joe Tracz, music & lyrics by Rob Rokicki) is an action-packed mythical adventure highlighting neurodiversity, courage, and friendship. Open Door's diverse, integrated cast will present 4 performances June 24-26, 2022 in the NARA Park Outdoor Amphitheater in Acton, MA.
All performances are sensory friendly and feature ASL interpretation and open captioning. There will be two audio-described performances - on the evening of June 25 and the June 26 matinee. Tickets are $15 for lawn seating. Discounted tickets are available for EBT, WIC and ConnectorCare Cardholders.
Sensory-Friendly Afternoon
Tuesday, June 7th
1:30pm - 4:30pm
Join us when the Museum is open to the general public, but group visits and birthday parties are not scheduled to avoid crowding and support access to exhibits. Advance registration is required for free admission.
www.AutismAlliance.org | (508) 652-9900 | AutismAlliance@Advocates.org
1881 Worcester Road, Suite 100A, Framingham, MA 01701
Our Contact Information
*{{Organization Name}}*
*{{Organization Address}}*
*{{Organization Phone}}*
*{{Organization Website}}*

*{{Unsubscribe}}*