Healthy Heroes Weekly Resources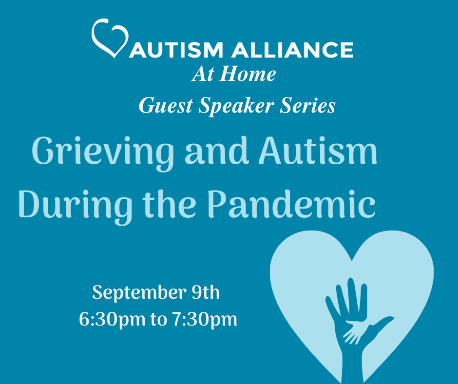 Autism Alliance Guest Speaker
Wednesday, September 9th at 6:30 PM
We welcome Jennifer Wiles, MA LMHC, BC-DMT Director of Children's Services at Beth Israel Lahey Health at Home as we kick off our September Speaker series: Grieving and Autism. Jennifer will speak about: What is grief; How we see it show up in children, teens and adults; and How to support someone who is grieving.
Autism Alliance Support Group
Friday, September 11 at Noon
Our Virtual Support Group meets on the 2nd Friday of the month. Family members meet to share joys and concerns of raising children on the autism spectrum.
New Transition Guide
OSERS (Office of Special Education and Rehabilitative Services) has published an updated Transition Guide to Postsecondary Education and Employment for Students and Youth with Disabilities. We want to ensure all those with disabilities are equipped with the skills and knowledge to achieve their post-school and career goals.
Autism Training and Technical Assistance
Project at Illinois State University has compiled autism-specific resources for individuals with ASD and their families as they navigate remote learning. It is our hope these resources can help provide ideas and support families.
Doug Flutie Jr. Foundation for Autism's Annual Flutie 5K
If you haven't joined us yet, there is still time! All funds raised starting September 3, through September 10, will be eligible for a matching grant donation of up to $1,000 from the Flutie Foundation. These funds will help us support Autism Alliance families. Let's all Help the Autism Alliance to be one of the top 3 teams!
www.AutismAlliance.org | (508) 652-9900 | AutismAlliance@Advocates.org
1881 Worcester Road, Suite 100A, Framingham, MA 01701