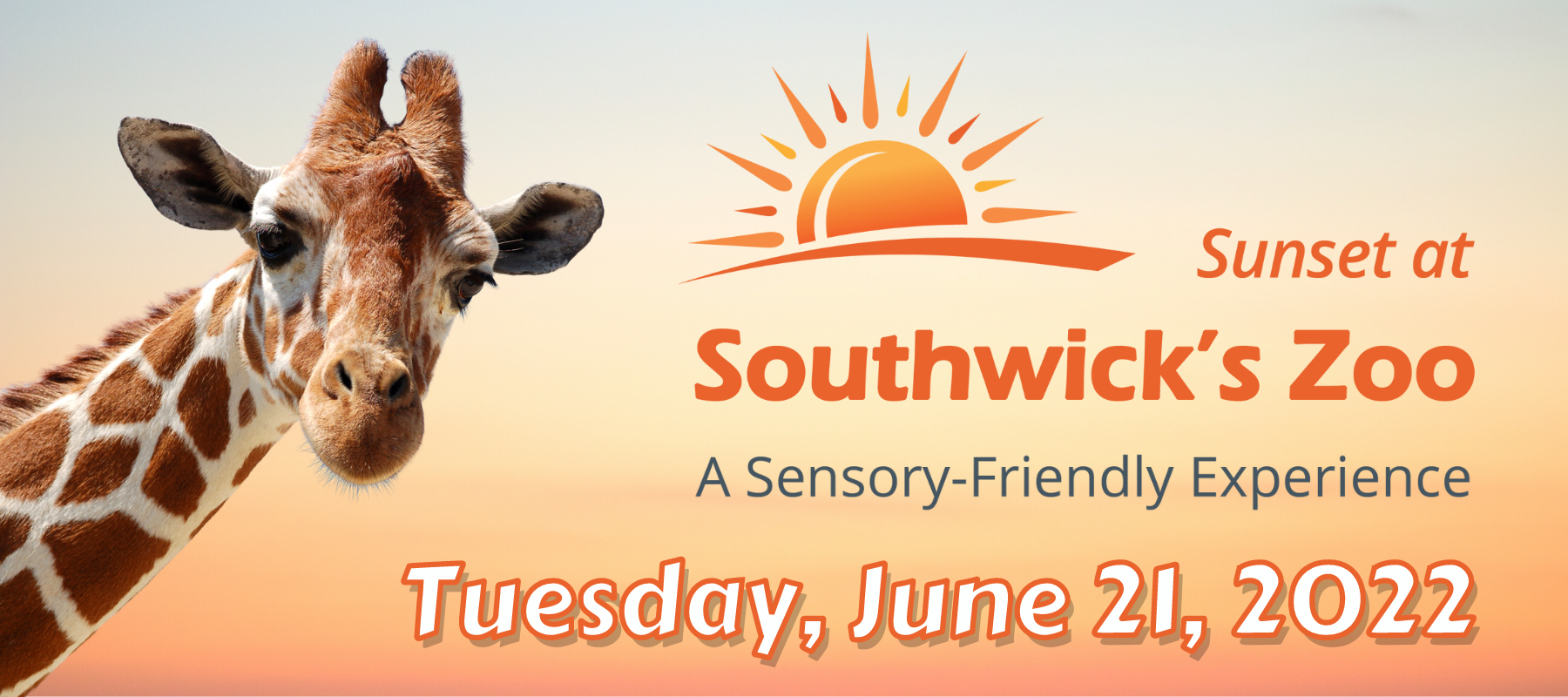 Autism Alliance Sunset at Southwick's Zoo 
June 21, 2022 - 6:00pm to 8:00pm 
Southwick's Zoo
2 Southwick Street |Mendon, MA 01756
TICKETS NOW ON SALE
Join us for our Sensory-Friendly Evening at Southwick's Zoo. This special event is designed for individuals with autism, their families, and others who may benefit from a sensory friendly experience. We'll have the zoo all to ourselves! Families will have the opportunity to spend two hours exploring the zoo and visiting animals in an intimate, quiet environment with no bright lights, rides, or gift store. Social Stories available HERE Tickets are specially priced at $12.00. There will be complimentary snacks provided by our friends at the Flutie Foundation. We encourage families to bring a picnic dinner to enjoy, as there are many picnic tables located throughout the zoo. There is also a wonderful restaurant on the zoo property, called Galliford's Restaurant & Tavern, should families choose to dine there. Please note: this event is rain or shine. Thanks to the generosity of our friends at ABS Behavioral Health Services LLC, we will have limited scholarships available for those in need. Please contact  Allison Daigle  or call 508-652-9900. This event will be capped at 500 tickets. So don't delay in purchasing them.
Autism Alliance MONTHLY Support Groups*
Sensory Friendly Community Events
Autism Welcoming Partners
The Lightning Thief
The Percy Jackson Musical
4 performances June 24-26, 2022 
Open Door Theater is back this year, presenting a rock musical that highlights neurodiversity in an accessible outdoor amphitheater!
Adapted from the best-selling book The Lightning Thief by Rick Riordan and featuring a thrilling original rock score, The Lightning Thief: The Percy Jackson Musical (book by Joe Tracz, music & lyrics by Rob Rokicki) is an action-packed mythical adventure highlighting neurodiversity, courage, and friendship. Open Door's diverse, integrated cast will present 4 performances June 24-26, 2022 in the NARA Park Outdoor Amphitheater in Acton, MA.
All performances are sensory friendly and feature ASL interpretation and open captioning. There will be two audio-described performances - on the evening of June 25 and the June 26 matinee. Tickets are $15 for lawn seating. Discounted tickets are available for EBT, WIC and ConnectorCare Cardholders.
Apex Sensory Friendly Hour
Sunday June 5, 2022
10:00am to 11::00am
The first Sunday of each month from 10am-11am friends and families can come visit Apex Entertainment for some fun in a sensory welcoming environment!
We want to ensure that everyone feels included and welcome at Apex Entertainment! Through the guidance of the Autism Alliance we have created our Sensory Friendly Sundays! Every first Sunday of the month, we offer special accommodations such as: reduced lighting and sound, sunglasses, sensory toys, and quiet rooms.
We are excited to share these experiences with our community and look forward to seeing you there! If you are interested in a sensory friendly birthday party or social event, please contact us at (508) 251-8666
Sensory Friendly Dining
Tuesday June 7th
3:00pm to 6:00pm
Accommodations are available from the moment each family arrives, ranging from special seating, to visual menus, to noise canceling headphones to fidget items. All of these sensory tools and accommodations will be available anytime an individual on spectrum dines at Burtons in Shrewsbury - not just during special events. Families can also request expedited check out to ensure a quick and successful visit. Burtons is known for its strict adherence to food allergies and dietary needs. We are thrilled to have Burtons Grill & Bar in Shrewsbury as one of our first very Autism Welcoming business partners. They will be hosting these Autism Welcoming dining events on the first Tuesday of each month. Please stop in and check out all the wonderful accommodations they have in place. 
Sensory-Friendly Open Barnyard
Every other Saturday through September 2022. 
Saturday June 11th
2pm to 3pm 
Weir River Farm |Hingham
This program offers a dedicated hour for families with disabilities, providing a reduced number of guests and quieter sensory friendly environment. Any family that would benefit from a limited capacity visit is welcome. During the Sensory-Friendly Open Barnyard series, you'll have the opportunity to experience life on one of the last working farms on the South Shore. In the barnyard, meet our ponies, llama, and potbellied pig. Have a chance to interact with our goats, sheep, and chickens. See if you can find our herd of black and white belted Galloway cattle in their pastures. On your way down to the barnyard, enjoy the beautiful StoryWalk™. To purchase tickets
Sensory Friendly Afternoon
Tuesday, June 7th  2022
1:30pm to 4:30pm
Free with pre-registration
Registration Required: Register Now
Come explore the accessible Discovery Museum, Discovery Woods, and our giant treehouse! Sensory-Friendly Afternoons are all about inclusion. During these events, the Museum is open to the general public, but group visits and birthday parties are not scheduled, to avoid crowding and support access to exhibits.
Adult Recreation Program*
Zoom Zumba
Saturday June 11th
5:30 p.m. -  6:30 p.m.
Licensed Zumba® Fitness instructor, Andria DeSimone will lead an hour-long Zumba class. Advocates Fun, Friends, & Family events are open to individuals with disabilities who are 16 and older, staff who support them, their families, and friends. We welcome members of the Advocates community, as well as those interested in learning more about us.
Healthy Happenings Emails
In case you missed one, or want to check back in, our Healthy Heroes is now Healthy Happenings emails which are published weekly for up-to-date Autism Alliance programming and community resources designed to keep you connected and supported. You can find these archived on our website along with our current and past monthly newsletters.
*Please submit requests for accommodations, including ASL interpreters, at least
2 weeks prior to the event date to AutismAlliance@Advocates.org or (508) 652-9900
www.AutismAlliance.org | (508) 652-9900 | AutismAlliance@Advocates.org
1881 Worcester Road, Suite 100A, Framingham, MA 01701