NEW Autism Alliance Covid-19 Family Grants 
Autism Alliance Grant Funding
Now Accepting Applications
November 1- November 20
The Autism Alliance is happy to announce our Covid-19 Holiday grant cycle. The funding is money we raised through the Fall Flutie 5K and additional funds provided through the Doug Flutie Jr. Foundation for Autism. We would like help families during the holiday season to make this year a little brighter for you and your loved one with autism. Please see link for grant application and guidelines. 
 Family Satisfaction Survey
We want to hear from YOU!!
We would like to know what you think about the services the Autism Alliance provides to you and your family. We value your feedback and will use the responses to better meet our needs and directly improve our services. The estimated time to complete the survey is 5 minutes. Thank you for your time and the opportunity to serve you and your family and our community. 
Faith's Dance Party
Tuesday
November 10th
4:00-4:30 p.m.
Faith will be leading this super fun dance party featuring songs that YOU select. You are invited to join us as we move our bodies and share fun Thanksgiving facts, favorite foods and songs.
Southwick Zoo Club
Thursday 
November 12th
9:30 -10:00 a.m. 
Special Edition Southwick Zoo Club. This program is open to all ages. Home and school classrooms that support students with autism are invited to join.
Thanksgiving Trivia
Tuesday
November 17th
4:00-4:30 p.m.
Join us for Thanksgiving Trivia where we will find the answers to some classic trivia questions about Turkeys, Parades, and Charlie Brown Thanksgiving. This  program is for all ages.
Holiday Sing-a-long
Saturday
December 5th
2:00-3:00 p.m.
Come and celebrate the songs of the season at our Annual Children's Holiday Sing-a-long featuring Roman Music Therapy. We welcome families, children and siblings of ALL ages to join in this years virtual fun!
SibShop
Saturday
November 7th
1:00-2:00 p.m.
Siblings ages 7-12 are invited to register for this virtual Sibshop program. Come and meet new friends and learn more about how you are being an "Awesome" sibling!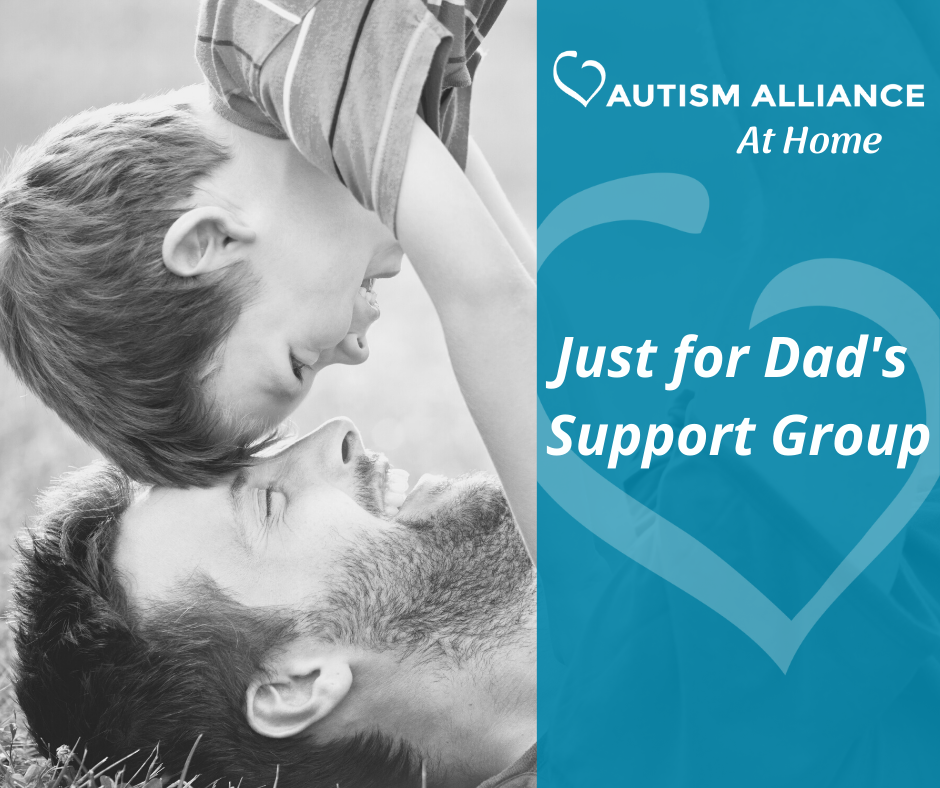 Just for Dads
Thursday
November 12th 
6:30-7:30 p.m.
All Dads are invited to join us on zoom for our monthly support group facilitated by Rob Sutherland, dad of two boys on the spectrum. Drop-ins are welcome
Parent Support Group
Friday 
November 13th
12:00-1:00 p.m.
All family members are invited to join us as we  meet virtually to share joys and concerns of raising loved ones on the autism spectrum.
Without Limits Support Group
Friday 
November 20th 
11:00-11:30 a.m.
Adults 18+ ( with an Asperger's profile), are welcome to join us on zoom for our monthly support group meeting. 
Portuguese Support Group
Monday
November 23rd
6:30-8:30 p.m.
Portuguese Speaking Families are
invited to our monthly support group. 
NEW Autism Housing Pathways
FREE HOUSING WORKSHOPS
Section 8 Housing
Application Assistance
Tuesday November 10th 
The Autism Alliance, in partnership with Cathy Boyle of Autism Housing Pathways, is pleased to be able to offer FREE Section 8 Application Sessions to our families and individuals with ASD. During this 40-minute appointment on Zoom, participants complete applications for the Section 8 Centralized Waiting List and the DHCH Section 8 Housing Choice Voucher Program list. For more information and to sign-up for a time please click on the link below. 
Housing Consultations
Monday November 2nd
Friday November 20th 
The Autism Alliance, in partnership with Cathy Boyle of Autism Housing Pathways, is pleased to be able to offer FREE Housing Consultations to our families and individuals with ASD. During each 50 minute appointment, participants complete a guided questionnaire. For more information and to sign-up for a time please click on the link below. 
 Grief and Loss Support Group
and Parent Education Workshop
Grief and Loss Group
Thursday November 5th and 19th 
12 noon - 1:00 p.m
This is a group for family members raising a loved one on the Spectrum. Caregiving can be an all-consuming process and we don't always take the time to reflect on our own experiences and emotions as we care for others. In this group, we will discuss caregiving through the lifespan and through the lens of loss and grief, and we will discover ways to take care of our emotional and physical health in the process.
Offered on Zoom. Please register at below link.
Facilitated by Jennifer Wiles, LMHC, BC-DMT, Beth Israel Lahey Health at Home.
Open to all at no cost through a generous grant from The New York Life Foundation.
Solutions with Pam Kaufmann
Thursday November 5th
11 a.m.- 12 noon 
A sixty-minute question and answer workshop designed to help parents learn tips for effective communication with their school, and strengthen relationships with their teachers. Attendees must register and are encouraged to submit questions ahead of time. This is a great way to sharpen your advocacy skills and learn practical ways to help support your son/daughter's during Covid-19. Participants must have a son/daughter with Autism and live in one of the following towns: Ashland, Dover, Framingham, Holliston, Hopkinton, Hudson, Marlboro, Natick, Northborough, Sherborn, Southborough, Sudbury, Wayland and Westborough
SPECIAL THANK YOU TO OUR 
FUNDRAISING PARTNERS
Golf for Autism Fundraiser 
The Berlin Police Department 
Healthy Heroes Weekly Resources
In case you missed one, or want to check back in, our daily Healthy Heroes Emails are archived on our website along with our current and past monthly newsletters. Healthy Heroes is now being published weekly with up-to-date resources and information. 
www.AutismAlliance.org | (508) 652-9900 | AutismAlliance@Advocates.org
1881 Worcester Road, Suite 100A, Framingham, MA 01701